The BEC NEXUS is about supporting high performance building thinking and action in the greater Worcester community. The BEC NEXUS is an interdisciplinary group, welcoming designers, developers, building owners, policy makers, individuals concerned about sustainability, students, and more! Hosted by Building Evolution Corporation.
Sign up to attend the next scheduled meeting
Check out photos from some of our previous BEC NEXUS events and featured speakers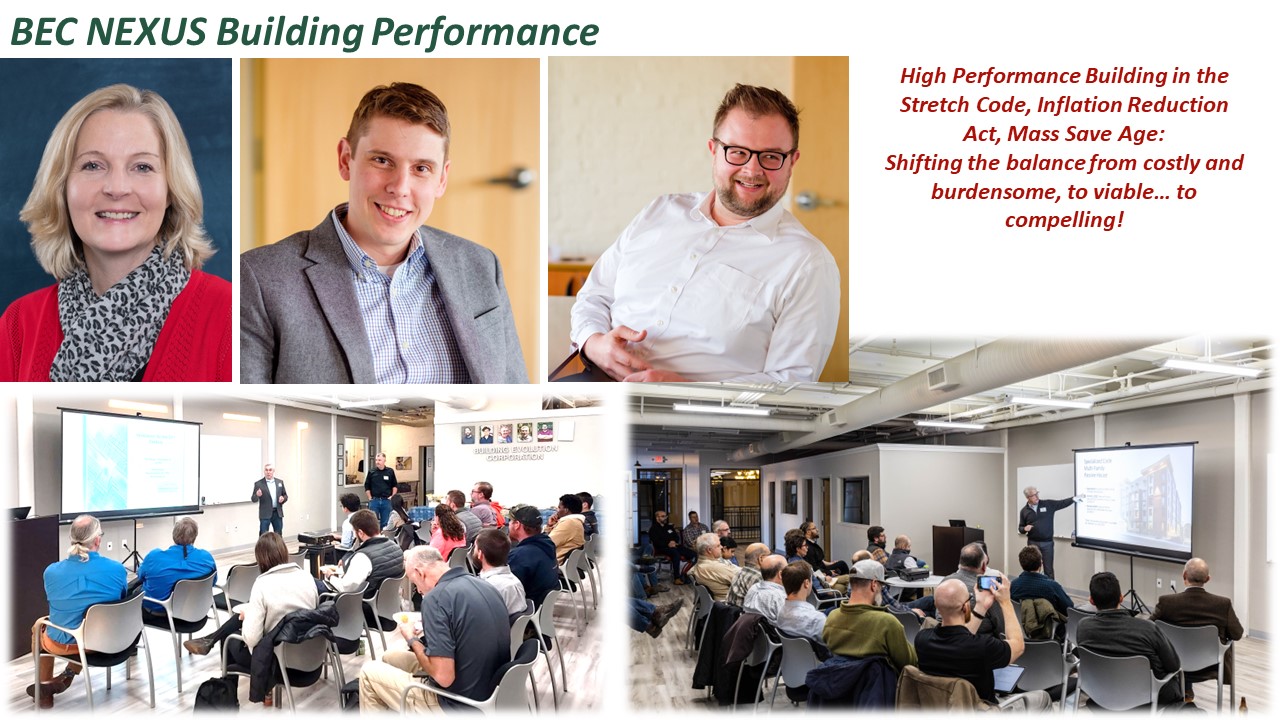 High Performance Building in the Stretch Code, IRA, MassSave Age
This month we will have, not one, but TWO presentations addressing our featured topic. First Kimberly Cullinane, Supervisor for New Construction Energy Efficiency at Eversource will review technical and financial support available from your utility partners and give examples of what this support makes possible. Then we will have Robert Durning and Chris Lewis of GreenerU present project examples to demonstrate how available incentives, creative financing options, and a total cost mindset help their clients realize significant decarbonization.
We are very excited and grateful to have such great speakers joining us at the Building Performance NEXUS! Please come with your curiosity and your questions.
More on our presenters:
KIMBERLY CULLINANE, CEM, LEED AP, Supervisor, New Construction Energy Efficiency, Eversource. Kimberly brings over twenty years of program leadership, energy and environmental policy analysis, and stakeholder management, including 10 years of direct experience facilitating energy-efficient sustainable building design and construction and sustainable building operations and maintenance.
ROBERT DURNING, CEO, GreenerU. Rob has successfully managed the implementation of more than $50 million in carbon reduction and energy savings projects, working closely with customers, and engineering and contractor partners to develop productive and long-lasting relationships delivering on-time, quality projects.
CHRIS LEWIS, Vice President of Engineering, GreenerU. Chris has more than seventeen years of varied experience in the energy efficiency arena, developing projects and guiding client engagements from climate action planning through engineering and construction.
BEC NEXUS – Stretching the New Code Further
Stretching the New Code Further. Massachusetts has adopted the new Stretch Energy Code and Municipal Opt-In Stretch Code in 2023 making low-energy buildings (including additions and alterations) mandatory. The New Stretch Code focuses on heating and cooling load reduction emphasizing high performance enclosures, minimizing thermal bridging and air infiltration. Paul Ormond of Department of Energy Resources (DOER), State of Massachusetts will review the timeline (some already here!) and impact of the new code on our local construction projects including the options for complying with the code.
Come prepared to join the discussion and share the implications of this new code for your practice. Bring ideas for what the Worcester regional construction market needs to meet the challenge of the new code and beyond.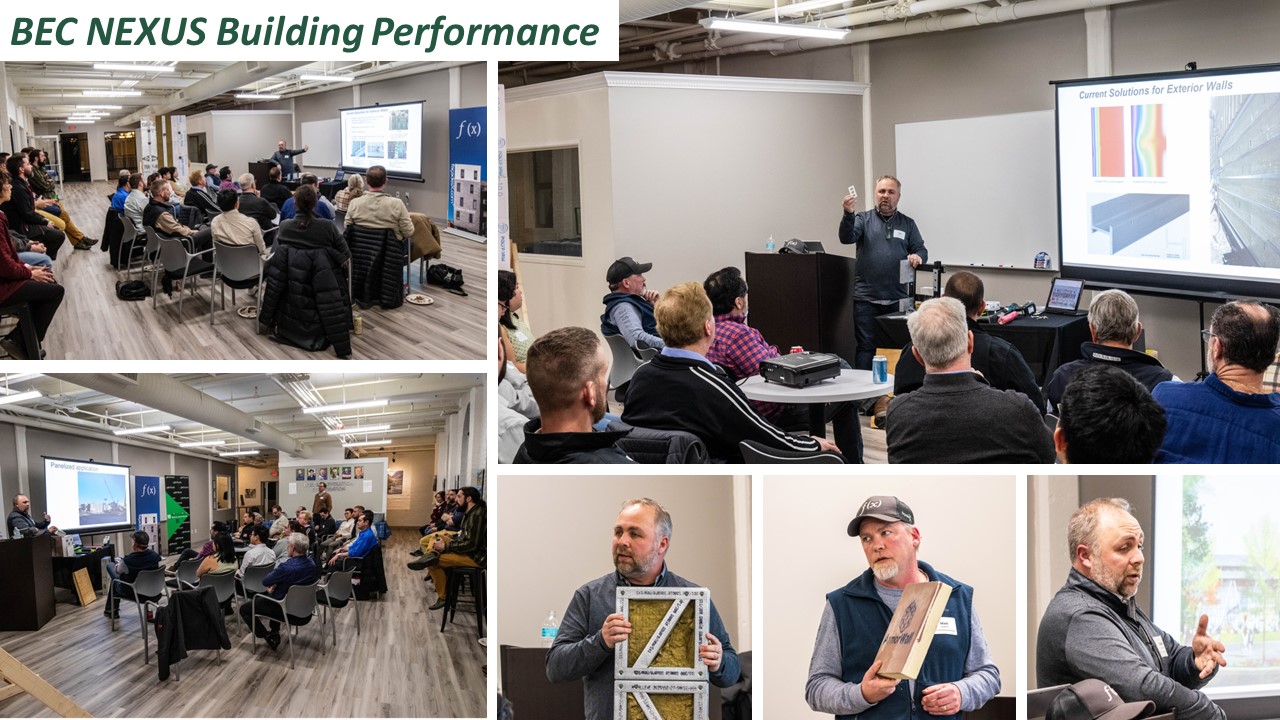 BEC NEXUS – Continuous Insulation of Exterior Walls
Continuous Insulation of exterior walls – it has actually been code for some time. Continuous insulation of exterior walls is also pretty much necessary if we are going to have comfortable interior environments that we can afford to heat or that we can heat with non-fossil fuel systems. Still, out here on the frontier (West of 495), it is not common practice. This NEXUS event is aimed at giving designers, developers and construction professionals the confidence to build modern and go continuous so we can be ready for the new codes, BERDO standards, and performance programs coming down the Pike.
Matt Capone and Mark Beroney of Facades X will review some of the many options to provide real and effective continuous insulation of exterior walls in both new build and retrofit situations. Their presentation will be supported by product samples and constructed mock-ups so participants can get their heads and hands around the constructability of details.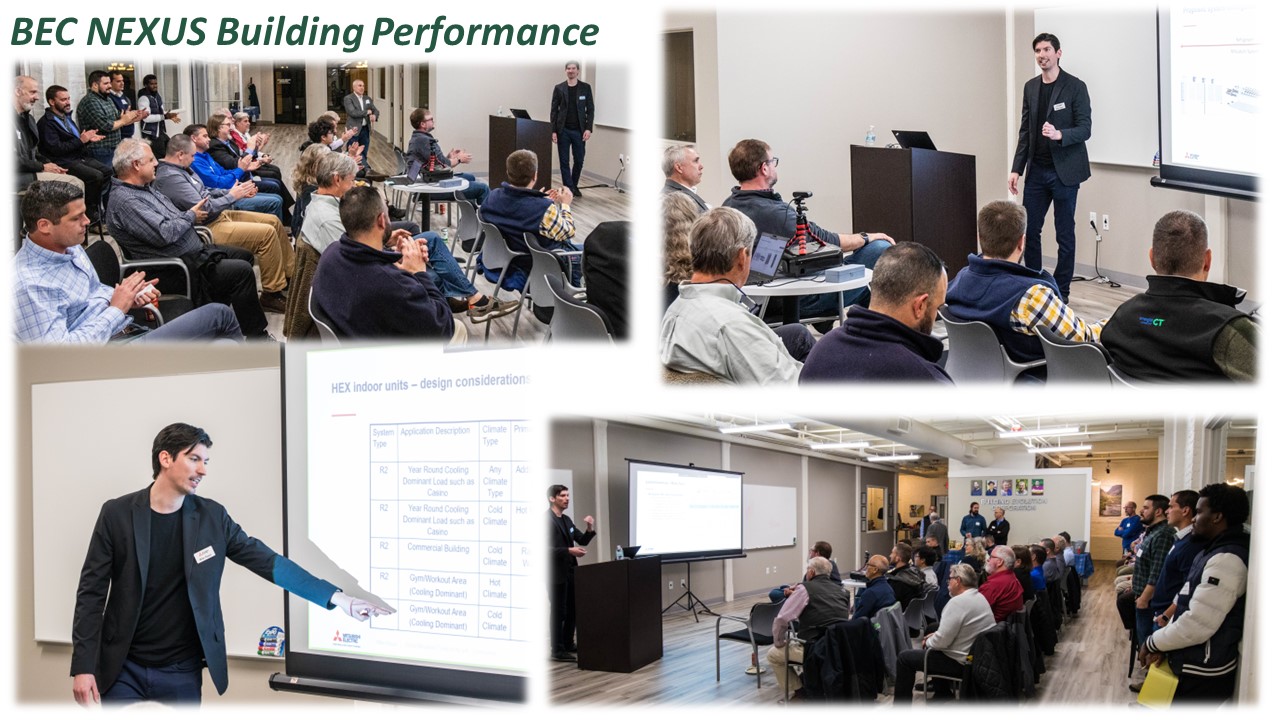 BEC NEXUS – High Performance Heating, Cooling, and DHW
Mike Ragan and Chris Ouellette (Mitsubishi Electric) will be hosting a discussion exploring innovative ways to achieve high performance buildings and electrification with VRF (Variable Refrigerant Flow) systems, heat pump applications with hydronic heat exchangers (HEX), and domestic hot water heating. We will be discussing approaches to meeting the increased demands of building owners and project scopes, and how our approach to projects has allowed for groundbreaking new applications in all areas from historic buildings to new projects striving for net zero certification.
This interactive discussion will allow the audience to dig deeper and ask questions such as the fundamentals of heat pump systems, building integration with controls systems, and ventilation applications with VRF equipment.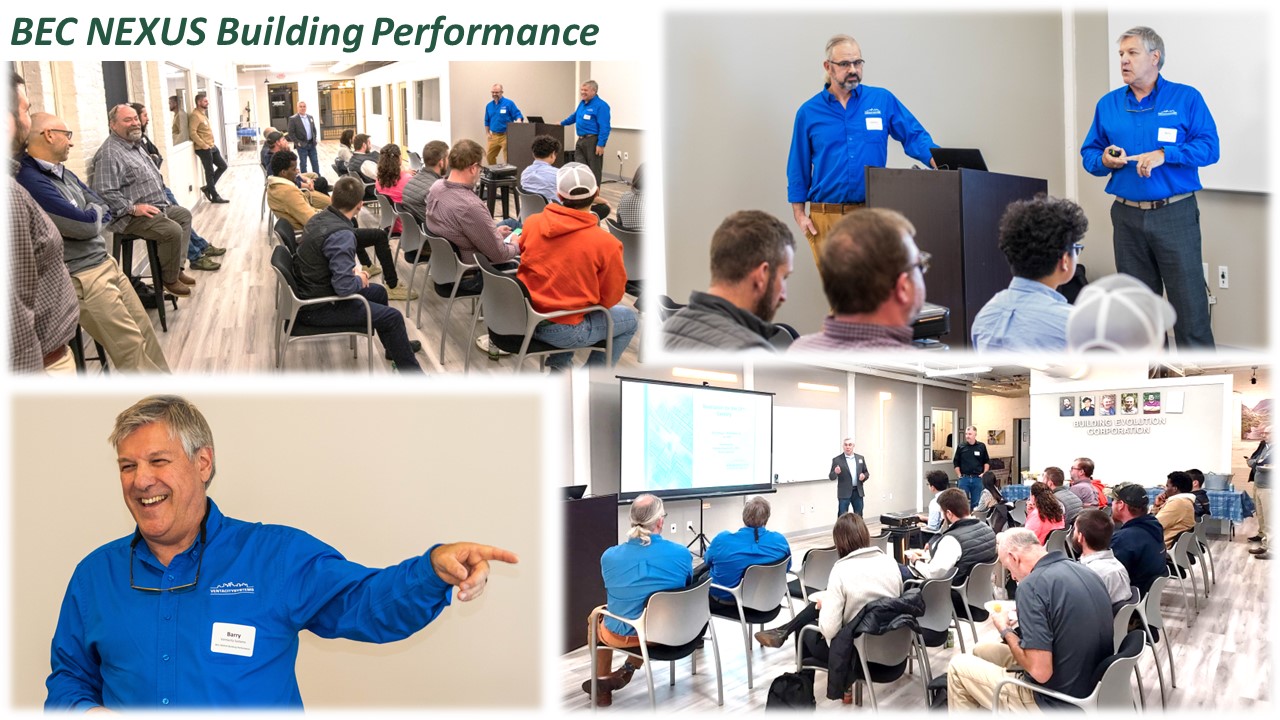 BEC NEXUS – Ventilation for the 21st Century
Barry Stephens and Aubrey Gewehr from Ventacity will provide insights in to VHE (Very High Efficiency) ventilation systems, with an emphasis on systems design that optimizes:
Comfort – with the utilization of conditioning elements such as DX coils, hydronic coils, or electric coils. These approaches manage both latent (humidity) and sensible (temperature) loads, which lead to higher energy efficiency and healthier spaces.
Efficiency – with design options such as zoning and semi-centralized systems, demand control where applicable, economizing and advanced controls.
They will also share the VHE HVAC model, which has been shown to reduce HVAC energy on average 70% in offices and commercial buildings that have been retrofitted to meet the design guidelines.